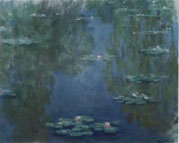 Buffalo, New York
presents
M O N E T AT G I V E R N Y
Masterpieces from the Musée Marmottan
May 23 through August 29, 1999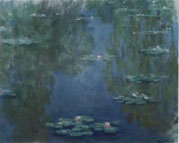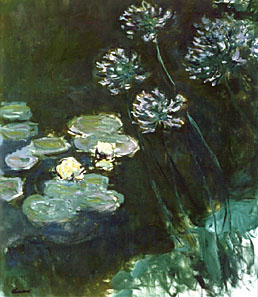 Monet, "Water Lilies and Agapanthus", 1914-17

The Albright-Knox Art Gallery is pleased to host this magnificent collection of works by Claude Monet, universally acclaimed as the founder of Impressionism and one of the most celebrated and beloved artists of all time.
This exhibition is made possible by an extraordinary loan of twenty-two of Monet's finest works from the Musée Marmottan in Paris. This outstanding collection includes paintings created between 1903 and 1926, during the last twenty-three years of Monet's life when his energies were focused on his spectacular gardens at Giverny. Considered some of his finest artistic achievements, the works— some measuring more than six feet across— portray the famous water-lily pond, its Japanese footbridge, and the beautiful trellises of roses and wisteria.
Not only will visitors be able to view this splendid works, they will also step back in time to catch a glimpse of Monet, his gardens, and his studio through archival photo murals. Visitors will also see large-scale color photographs of present-day Giverny by internationally acclaimed photographer, gardener, and writer Elizabeth Murray.
The exhibition is organized by the Albright-Knox Art Gallery, The Montreal Museum of Fine Arts, and the Phoenix Art Museum. After Buffalo, the exhibition will continue on to Phoenix. The exhibition is made possible, in Buffalo, through the generous support of M&T Bank.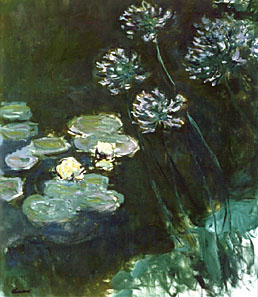 Monet, "Water Lilies and Agapanthus", 1914-17