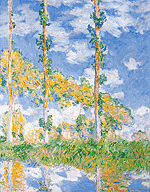 Claude Monet 1840-1926
Poplars in the Sun
[
Les trois arbres, été
] 1891, W1305
National Museum of Western Art, Tokyo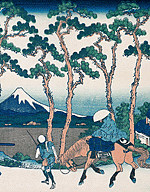 Katsushika Hokusai 1760-1849
Hodogaya on the Tokaido Road (Detail)
[Tokaido Hodogaya] c.1834 from the series Thirty-six views of Mt Fuji c.1830-5 Allen Memorial Art Museum, Oberlin
39 of Monet's best paintings from the world's greatest collections, alongside an extensive selection of Japanese prints and paintings, vividly demonstrate Monet's intimate relationship with Japanese art.
EXHIBITION HOURS
Week days from 9.30am to 5pm;
Saturday 9.30am to 8pm; Sunday 9am to 5pm.
Last admission is one hour before closing time.
ADMISSION
Includes same-day re-entry: Adults $18; Members, groups and concessions $12; Family $50; Member's family $35; Booked school groups $5 (per student).
PRE-PURCHASED TICKETS
Tickets are available online through the Gallery shop, or phone 1800 808 337 (freecall) 8:30am – 3:30pm Monday-Friday. All major credit cards accepted.
GROUP BOOKINGS
For group bookings (including school groups) phone +61 2 6240 6519.
National Gallery of Australia
Parkes Place, Canberra
For visitor information phone +61 2 6240 6502
Look at that flower with its petals turned back in the wind, is that not truth itself? … and here, next to this woman by Hokusai, look at this bathing scene: look at these bodies, can you not feel their firmness. They are made of flesh and bone yet are described only by their outline. What we appreciated above all in the West was the bold fashion of defining their subjects. Those people have taught us to compose differently there's no doubt about that.



Claude Monet to the Duc de Trévise 1920

The exhibition consists of four sections where Monet's paintings are hung in proximity to related Japanese works of art. The first section looks at Monet's use of 19th-century Japanese art to express modern experience of the city and the suburban countryside. The second explores the period when Monet moved away from Paris to Vétheuil and then Giverny. It shows that Monet was influenced not only by Japanese prints, but also by calligraphy and Japanese ink painting. The third section contains paintings of his garden and the meadows and rivers around Giverny. The final section suggests that Japanese screen paintings helped Monet to attain profundity in his great series of his waterlily pool at Giverny.