A Taste for Japan
Who launched the frenzy for all things Japanese, called Japonism, in the 19th century ? It is hard to say, however, the universal exhibition of London in 1862 and of Paris in 1878 introduced Japanese art in Europe. Specialised merchants settled in Paris.
It was a upheaval. The artists of the Far East had a completely new aesthetic approach, marking a break with Western painting convention.
Monet, like many others, was carried away. He began collecting woodblocks by the greatest masters, Hokusai, Hiroshige, Utamaro... "Hiroshige is a wonderful impressionist, Camille Pissarro wrote to his son. "Me, Monet and Rodin are enthousiastic about them."
The fancy for Japanese engravings seized also painters such as Vincent van Gogh, politician like Georges Clemenceau, writers like Edmond de Goncourt or Emile Zola.
Starting Monet's Collection
There are several versions about the origin of Monet's collection of engravings. His friend and biograph Gustave Geffroy told :
" Monet brought these marvels back from Holland. As he later related, he had found the first ones at a village's grocer's, where they had been brought together with products from the islands and overseas territories."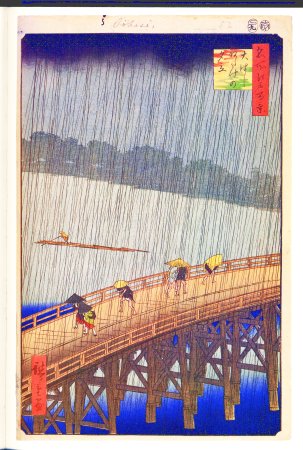 HIROSHIGE Ando, Sudden Shower over O-Hashi
This print of Monet's collection was interpreted by van Gogh
who made a copy in his own way