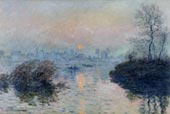 Monet, Claude French, 1840-1926 Sunset on the Seine (Coucher de soleil sur la Seine), 1875 W1921-1-5; W. 328
Oil on canvas 49.5 x 65 cm; 19 _ x 25 5/8 in. Philadelphia Museum of Art: Purchased with the W.P. Wilstach Fund, 1921 (c)2004 Philadelphia Museum of Art
Londres, le Parlement, trouée de soleil dans le brouillard
Claude Monet, 1904
London, the Parliament, Patch of Sun in the Fog
Oil on canvas H. 81 ; B. 92 cm.
Paris, Musée d'Orsay, Comte Isaac de Camondo bequest, 1911
Other paintings by Monet exhibited :
Le Pont de Waterloo à Londres, pastel,
Débâcle sur la Seine ou les glaçons.
Turner, Whistler, Monet: Impressionist Visions
Toronto, Art Gallery of Ontario, from June 12 to September 12, 2004
Paris, Grand Palais, from October 15, 2004 to January 17, 2005
London, Tate Britain, from February 12 to May 15, 2005
The Art Gallery of Ontario is pleased to announce that it will be the only North American venue for the spectacular exhibition Turner, Whistler, Monet: Impressionist Visions. This exhibition will bring together for the first time 100 exceptional paintings, watercolours, pastels, and prints by J.M.W. Turner (1775-1851), James McNeill Whistler (1834-1903), and Claude Monet (1840-1926), many of them rarely lent masterpieces from public and private collections in Britain, Europe and North America.
Whistler and Monet became close friends and shared an admiration for Turner. While each of them has been studied in depth, this exhibition will provide the first opportunity to explore the extraordinary artistic dialogue that takes place between their works. This "conversation" is embedded in their shared themes and variations.
Turner, Whistler, and Monet sought and found beauty in the contemporary landscape. For artists committed to working from nature, environmental degradation and pollution presented a major challenge. Inspired by Turner, Whistler and Monet created arguably the most poetic landscapes of the second half of the 19th century on the Thames, the Seine, and the Venetian Lagoon. Their response to reality suggests dramatically new readings for their works. Viewing nature through their unique artistic temperaments, the works of these artists have never spoken more directly to audiences around the world than they do today.
Turner, Whistler, Monet: Impressionist Visions was conceived by the Art Gallery of Ontario and organized in collaboration with Tate Britain, London, and the Musée d'Orsay, Paris. This is the first time that these three institutions have formed a partnership. After its AGO showing, the exhibition will go to the Grand Palais in Paris under the auspices of the Réunion des Musées Nationaux, before finishing at Tate Britain in London. It will be accompanied by a fully illustrated catalogue edited by Dr. Katharine Lochnan, Senior Curator and The R. Fraser Elliott Curator at the Art Gallery of Ontario, with contributions by leading international Turner, Whistler and Monet scholars.
____________________________________________________________
The connection between these three artists can be traced back to 1871 in London. Claude Monet (1840-1926) took refuge in the British capital during this "terrible year". There he discovered the work of Turner (1775-1851), in particular the Turner Bequest exhibited at that time, as well as the first Nocturnes by Whistler (1834-1903) who himself had very early on been seduced by the English master's landscapes. Monet might also have been acquainted with Whistler's engravings of the river Thames published the same year.
Turner's artistic singularity nourished the artist's outlook on Whistlerian compositions, which is not unrelated to the elaboration of the new pictorial movement of impressionism.
The first Monet pieces inspired in 1871 by the river Thames, his "effects of fog on the Thames" and his first paintings of the Houses of Parliament, will be confronted to his later work from the famous series of "Views of the Thames", including the Waterloo and Charing Cross bridges. Further comparison of these variations by Monet with Whistler's engravings, or with Turner's paintings and watercolours, from London to the ultimate sojourn in Venice, is very revealing.
To this three-voiced "dialogue" full of poetry, constituted of moving and elegiac pieces, is added those of Ruskin and Mallarmé, abounding in perfect harmony. For after realism, followed by the invention of impressionism, appeared the new trend of symbolism, "painting of souls, painting of ideas".
Scientific committee
Katharine Lochnan, Senior Curator, Prints and Drawings, at the Art Gallery of Ontario, Toronto
Sylvie Patin, Chief Curator, Musée d'Orsay, Paris
Alison Smith, Senior Curator of Exhibitions at the Tate Gallery, Londres
John House, Professor of Art History at the Courtauld Institute of Art, Londres
Ian Warrell, Curator of British Art at the Tate Gallery, Londres
Toronto AGO Admission prices are as follows:
Adults: $18
Seniors (65 years of age and older) & Students (full-time with ID): $15
Youths (6 to 15 years of age): $9
Children (5 years of age and younger): Free
Family (2 adults and up to 5 youths): $40
AGO members: Free
Call for group information, guided and unguided tours: (416) 979-6608.
Toronto AGO Hours of operation
Monday: closed
Tuesday: 11 a.m. - 6 p.m.
Wednesday: 11 a.m. - 8:30 p.m.
Thursday and Friday: 11 a.m. - 6 p.m.
Saturday and Sunday: 10 a.m. - 5:30 p.m.