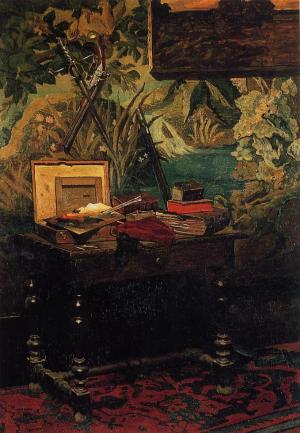 Claude Monet, Studio Corner, 1861
Impressionist art is based on the use of color, which has to "draw" the motive without resorting to line.

At the beginning of his career, Monet used dark colors, as he did in the 'Studio Corner' marked by black shades. His painting evokes Courbet and the Realist School.

From 1860 on, Monet abandonned dark colors and worked from a palette limited to pure light colors. In 1905, answering a question about his colors, he wrote :

"As for the colors I use, what's so interesting about that ? I don't think one could paint better or more brightly with another palette. The most important thing is to know how to use the colors. Their choice is a matter of habit. In short, I use white lead, cadmium yellow, vermilion, madder, cobalt blue, chrome green. Tha t's all."

The color analysis enabled to identify the colors he used and the binder of the paintings : poppyseed oil and linseed oil. The former dries off slower and yellows less.